The Essex Native Oyster Restoration Initiative (ENORI) is a collaboration between oystermen, government, conservationists and academia.
Together we are working towards the Essex estuaries having self-sustaining populations of native oysters that provide ecosystem services, increased biodiversity and sustainable fisheries whilst recognising their cultural importance. More information can be found on our partners and supporters by clicking on their logos below.
ACHIEVEMENTS
Designation of the 284km
2
Blackwater, Crouch, Roach and Colne Estuaries
Marine Conservation Zone (MCZ)
in 2013 with the conservation objective to recover native oysters and native oyster beds. More information on MCZs can be found
here.
Creation of a 200ha (2km2) Blackwater Restoration Box for the specific purpose of recovering native oyster beds.
Adoption of a
fisheries management plan
to recover native oyster populations in the MCZ which when resilient enough will allow a sustainable fishery.
The confirmation of the Native Oyster Permit Byelaw in 2018 that protects the fisheries management plan and Restoration Box by law.
The Mother Oyster sanctuary is located in the 200ha (2km2) Restoration Box where we are
translocating
mature native oysters to improve reproductive success.
Established a supply chain of waste oyster shell from stalls in Borough Market, London and on Mersea Island to relay in the sea and improve the seabed for oysters to settle and grow (another UK first).
Helped establish first UK network for the restoration of native oysters.
We are undertaking ground-breaking science to support native oyster recovery.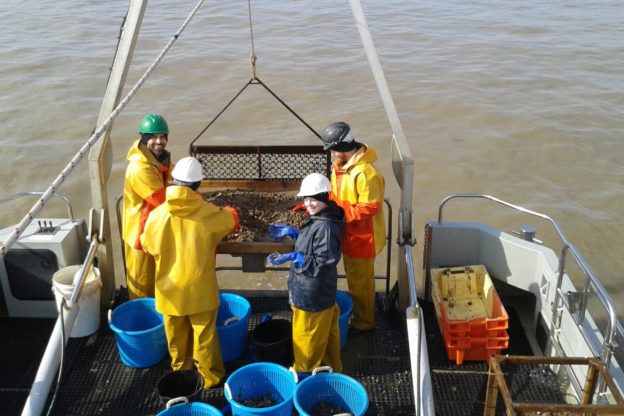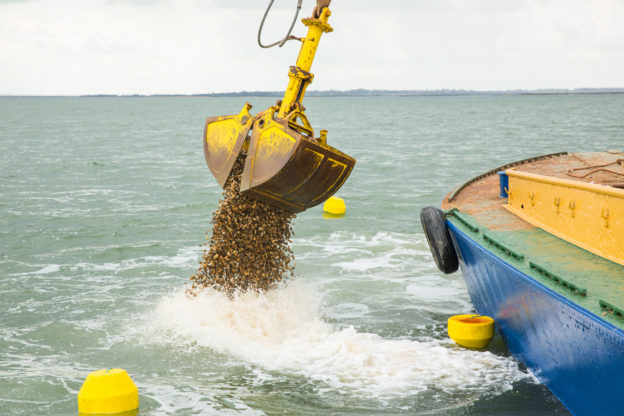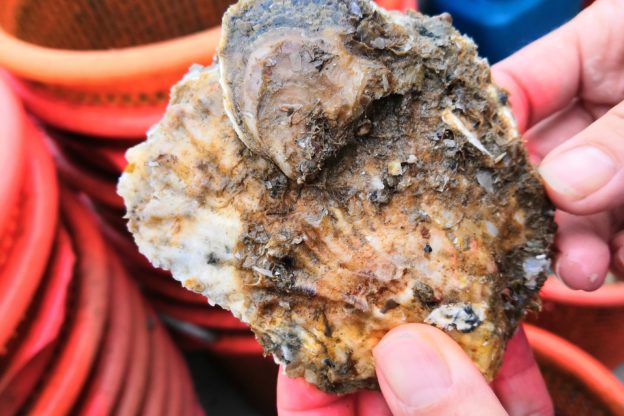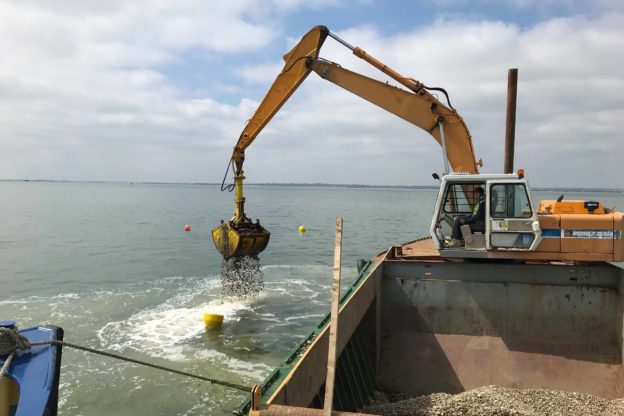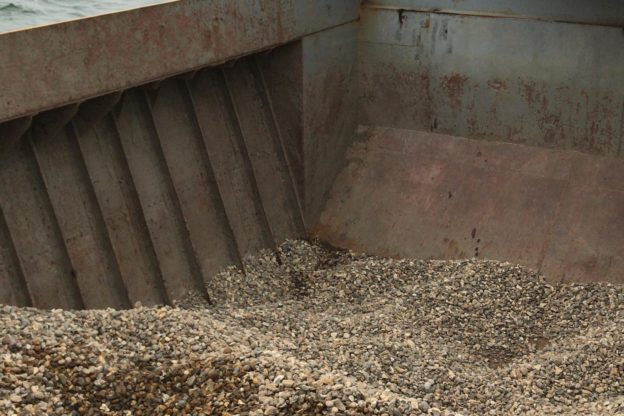 Native oysters (Ostrea edulis) are critically important both ecologically and economically.

As well as being an intrinsic part of our marine life, the native oyster provides us with many ecosystem services – these are the benefits we receive from the natural environment.
Read more about these services below:
BIODIVERSITY
Oyster habitats support a higher biodiversity of invertebrates and fish than surrounding unstructured habitats.
SUPPORTING FISH POPULATIONS
Oyster beds provide valuable nursery habitat for many fish species.
IMPROVING WATER QUALITY
Water quality is greatly improved by oysters filtering out suspended matter.
REDUCING NITROGEN LEVELS
Estuaries tend to have very high levels of nitrates which can be damaging to the environment. Oysters remove these excess nutrients from the water.
HERITAGE VALUE
Native oyster fishing and cultivation have long been at the heart of coastal communities in Essex and can be traced back to Roman-times.
THREATS TO NATIVE OYSTERS
There are fewer than 5% of native oysters remaining in Europe when compared to historic levels.

This decline marks them as exceptionally vulnerable and oyster beds are the most threatened marine habitat in Europe.  This is due to historic overharvesting, disease, pollution, habitat loss and competition with invasive non-native species.
To restore native oysters, we are delivering a range of solutions.

Recovering the native oyster requires a multi-disciplined approach from traditional models and local knowledge to new and innovative restoration methods. Find out more about these solutions in the menu on the right.
HISTORY OF OUR NATIVE OYSTER
Our native oyster has been with us for as long as we can see back in our human history.

Below is a timeline showing just how important native oysters have been to us and also some of the threats that they have faced over the years.
8700 – 2000 BC
Evidence of stone-age hunter gatherers harvesting oysters
43 – 410 AD
Oysters were part of the population's diet in Roman times and excavations have discovered remains of what would have been road side stalls selling oysters along the main Roman road to London.
The Middle Ages
Valuable oyster beds were documented in the Domesday book in 1086.
17th Century
Export of oysters became incredibly important for Colchester, with the annual average in the years from 1679 to 1700 amounting to 1,140 bushels with the peak being in 1682 when over 4,000 bushels were shipped overseas likely to its dominant trading partners in the Netherlands.
A 'bushel' is an old unit of measurement that today would equate to roughly 30kg.
19th Century
According to Parliamentary papers, the native oyster fishery at the time was as important as the herring fisheries, which in the 19th century were known to be 'the greatest in the world'.
1836
Charles Dickens's Pickwick Papers – 'here's an oyster stall to every half dozen houses. The street's lined with 'em.'
1840s
More than 200 million native oysters were sold annually in the London market in the 1840s and the population of London at the time was below 2 million.
1875
'Improved facilities of transit and the growing luxury of the age' led to the demand for native oysters outpacing the supply. With new demand springing up in hundreds of towns across Europe who had never seen an oyster before, prices went from 4 shillings and 3 pence in 1858, to 17 shillings in 1865. That's the equivalent of £13.30 to £53 in today's money.
This demand led to catastrophic overfishing of the native oyster.
1875
Oyster industry employed more than 15,000 boats and 50,000 people.
1876
The Tollesbury & Mersea Native Oyster Fishery Co. Ltd was formed in 1876 to enable the local oystermen to manage the oysters in the River Blackwater.
20th Century
The native oyster begins to decline significantly: Oyster landings in England and Wales dropped from 26 million in 1918 to 7 million in 1948.
1963
The catastrophic freezing weather event of 1963 when shallow waters froze solid, decimated native oyster populations.
1979
Oystermen formed the Blackwater Oysterman's Association to jointly manage and cultivate the Several Order.
1980
It was discovered that a compound in boat antifouling paints called tributyltin (TBT) sterilised oyster populations and drastically reduced their numbers. This substance was banned in 2003 and all ships had to remove it by 2008.
1983
The parasite Bonamia ostreae was confirmed to be infecting native oysters in the UK in 1983. The parasite causes bonamiasis which can cause sever mortalities in native oyster populations.
1984
The local oystermen acquired the controlling interest in the Tollesbury & Mersea Native Oyster Fishery Co. Ltd and began the slow process of increasing the stocks of oysters despite the problems caused by disease.
2011
Essex Native Oyster Restoration Initiative is formed to regenerate and restore the native oyster populations in the region.
2013
The Blackwater, Crouch, Roach and Colne Estuaries MCZ is designated for the native oyster and their associated beds. This is the only MCZ in the UK that is designated for both the oysters and oyster beds.
2018
Kent & Essex Native Oyster Permit Byelaw written into law, thereby confirming the legal protection of the fisheries management plan and Restoration Box
2019
Physical restoration begins within the Restoration Box. This will involve deploying spat collectors, cultch and brood-stock oysters as well as monitoring, public engagement and outreach around the project. We will also be starting a volunteer shell collection scheme.
ENORI AND OUR PARTNERS ARE CURRENTLY UNDERTAKING COLLABORATIVE RESEARCH PROJECTS BOTH IN THE LABORATORY AND ON THE WATER

Below is a short summary of some of the work that is being done to help the evidence-based restoration of the native oyster in the Marine Conservation Zone.
The first extensive study of oysters in Essex estuaries was conducted in 2012.  The data were used to demonstrate the importance of the sites and to underpin the application for MCZ status in 2013.
Research is underway looking at monitoring growth, survival and recruitment of oysters. This will influence the development of a predictive model for oysters to aid in fisheries and conservation management.
Further research areas include investigations into non-invasive methods to predict spawning times, ecosystem services provided by oysters and modelling stock recovery of native oysters in the MCZ.
All pictures were generously provided by the ZSL Digital Team, KEIFCA, Alice Lown and The Tollesbury and Mersea Oyster Company